April 27, 2010
ESTC and NCAM agreed on long-term cooperation
Prof. John Qu, director of ESTC visited the National National Centre for AgroMeteorology (NCAM), Seoul National University, Republic of Korea during April 23-24 2010. The Memorandum of Understanding was signed between ESTC and MCAM on April 27, 2010 in Seoul National University.
NCAM is a joint government agency in the field of agrometeorology,  among others, to support national food security and advancement of agricultural and forestry services at national and global levels; to carry out researches to support for the sustainable management of agriculture and forestry; to mitigate natural disasters by exploring the efficient usage of meteorological and climate information as natural resources; to provide confronting technologies to adapt to global climate change and lay a foundation for Green Growth.
The two parties agreed, within the scope of their research and development programs, co-operate in the implementation of cutting-edge interdisciplinary research projects including land-vegetation-atmosphere continuum, land disturbance monitoring and analysis, natural resource monitoring by remote sensing/GIS, detailed climate change projection and its application to natural resources, high-definition digital climate mapping, NWP-based agrometeorological forecast; both parties recognize that this cooperation could be further enhanced by leveraging their involvement in other projects with other international organizations, especially with UN agencies (i.e. World Meteorological Organization, the UN Food and Agriculture Organization, etc).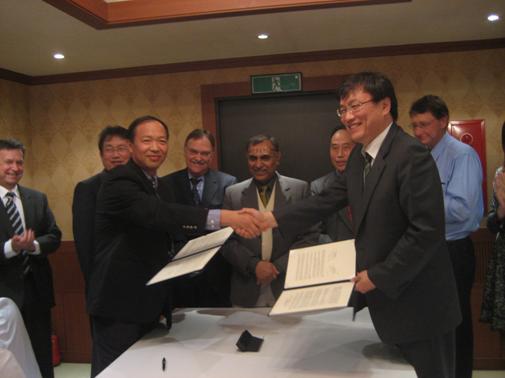 Dr. John J. Qu, director of ESTC and Dr. Eun Woo Park, director of NCAM signed a MOU
on April 27, 2010 in Seoul, Republic of Korea